Our pets enrich our lives in so many ways. They bring a joy unlike any other and yet they ask for so little in return. Being involved in rescue, having furkids of my own, it is always sad to see so many once loved pets lost and homeless on the streets or waiting in our shelters to be found or adopted.
Wanting to help be a part of the solution, IdentaPet, the PetSake Identification Kit, Recovery Aid for Lost Pets & Emergency Preparedness Packet was developed. So many of our purchasers liked the idea of our Do-it-Yourself tag that was included with their IdentaPet Packet, that I began a search to discover more convenient, inexpensive DIY tags that could be sold in one convenient place. From that concept, BarB's Petpourri was born -- and expanded -- to include all of the great items you will find while PAWsing here.
My furkids are our product testers and help in researching new ideas and items. They enjoy giving a helping paw to each and every order placed. And most especially they love being a part of keeping other pets safe and happy!
I hope that when you browse through our pages, you feel as if you are right at home and a friend has come to pay a visit, excited to show you some great pet products that she has found and wants to share with YOU!
So pull up a chair, sit awhile . . . and remember . . .
pets are always welcome here!
BarB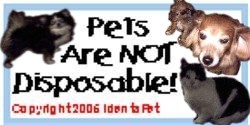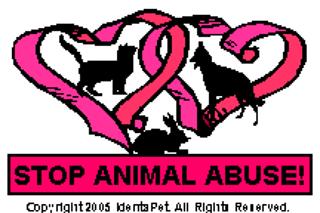 COMPANY PHILOSOPHY

THE POWER OF ONE ...
I know it is impossible for
ONE person to care for all the pets in the world ...
I believe all great things are accomplished
by ONE person doing the impossible ...
Therefore, I rejoice ONE day at a time,
that ONE person at a time,
caring for ONE pet at a time
will make the impossible ... POSSIBLE!
(c)Copyright 2004 - 2007 IdentaPet